PP packaging tapes, acrylic, low-noise
These packing films consist of a biaxially stretched (i.e. not stretchable in width), transparent polypropylene film (PP), which is coated on one side with a water-based acrylic glue with low noise tape unwinding. The tapes are used wherever the aging and UV stability of packaging is important. Excellent for long-term bonding of light-weight to medium-weight cardboard (PP-850, PP-851, PP-861) as well as for heavy cardboard with our Ulith Premium and Ulith Star tapes.
These "Premium" and "Star" ranges are also particularly suitable for bonding recycled cardboard and for higher quality applications due to the extra thick adhesive application. Hard glue setting – good pressure is necessary for optimum cross-linking between adhesive tape and cardboard.
These acrylic tape variants with silent or low noise unwinding are produced with a variety of foil and total thicknesses to meet all customer requirements or purposes (e.g. gluing of boxes, bundling work, pallet securing). Available as standard for manual processing.
PP-851/25my
25my
Transparent
Braun
48mm x 66m
50mm x 66m
Ulith-Premium 2011
32/56my
Transparent
Braun
50mm x 66m
PP-851/28my
28my
Transparent
Braun
12mm x 66m
15mm x 66m
19mm x 66m
25mm x 66m
38mm x 66m
48mm x 66m
50mm x 66m
75mm x 66m
Ulith-Star 2001
35/63my
Transparent
Braun
50mm x 66m
PP-861
32my
Transparent
Braun
50mm x 66m
PP-853
28my
farbig
Blau, Gelb, Rot,
Grün, Weiss
50mm x 66m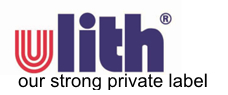 In case you did not find the desired dimension please do not hesitate to contact us. We would be pleased to help you.
PP-850
25my
Transparent
Braun
48mm x 66m
50mm x 66m
PP-851
28my
Transparent
Braun
12mm x 66m
15mm x 66m
19mm x 66m
25mm x 66m
38mm x 66m
48mm x 66m
50mm x 66m
75mm x 66m
PP-861
32my
Transparent
Braun
50mm x 66m
Ulith-Premium 2011 HT
32/56my
Transparent
Braun
50mm x 66m
Ulith-Star 2001 HT
35/63my
Transparent
Braun
50mm x 66m
PP-853
28my
farbig
Blau, Gelb, Rot,
Grün, Weiss
50mm x 66m